A diaper bag is a must-have for any parent traveling with a baby. It's important to have a practical, stylish bag, and spacious enough to fit all the necessary items. A good rule of thumb is to estimate that you'll need to keep your diaper bag with you for at least 2-3 hours. You'll need enough diapers, wipes, and other supplies to last that long.
Of course, if there is an emergency where you won't have access to your diaper bag for longer. Then make sure to bring along some backup supplies. But in general, it's a good idea to pack as much as you think you'll need to keep your baby happy and well-fed during their stay in your care. We'll discuss the best practices for packing a diaper bag for travel and answer the question of how long you should use it. We'll also provide tips on how to pack your diaper bag, so it's lightweight and easy to carry.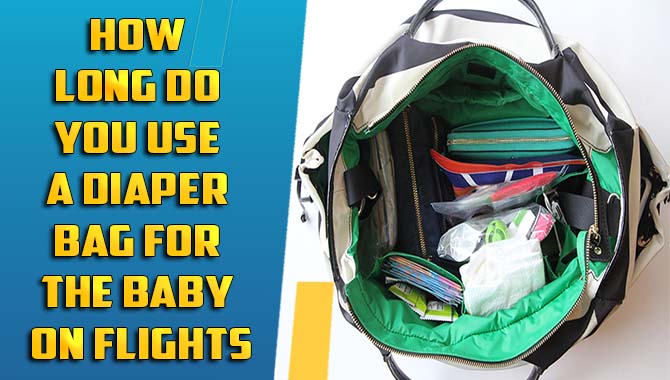 What Is A Diaper Bag?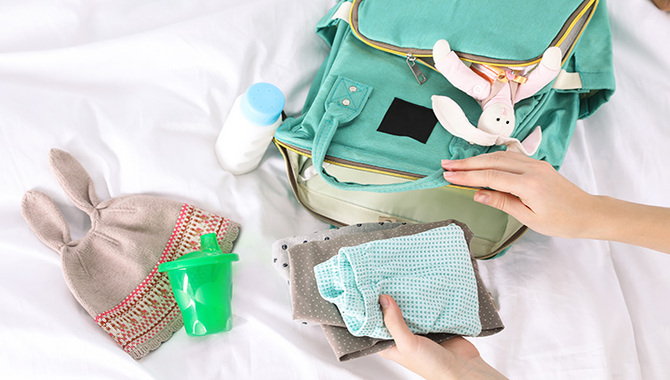 A diaper bag is a small but essential bag that contains all the essentials for a baby or toddler. It includes everything from diapers to wipes to milk and snacks. A good diaper bag should be spacious enough to hold all necessary items but not so big that it could be more manageable. It should also have compartments for each item to make everything easily accessible. And lastly, it should be comfortable to wear and easy to clean.
Types Of Diaper Bags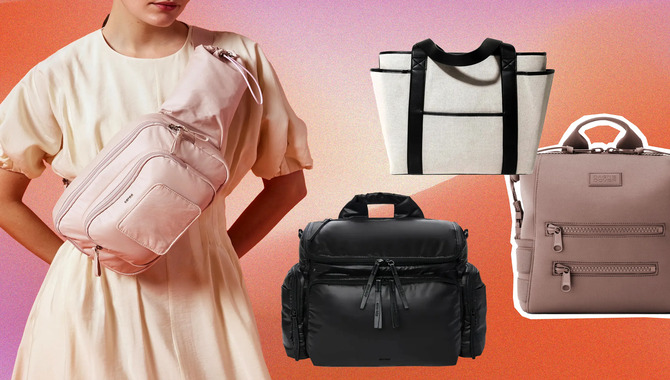 There are various types of diaper bags on the market, each with its unique features and advantages. The most common type of diaper bag is the backpack style. These bags are designed to be worn over your shoulder or on your back, and they usually have plenty of compartments and pockets so you can store everything you need while you're out and about. Backpack-style diaper bags are popular because they're versatile and easy to carry around. But they can also be a bit heavy depending on the size and number of pockets.
Another popular type of diaper bag is the messenger style. These bags are smaller than backpack-style bags, but they still have plenty of storage space. They're ideal for carrying around one or two diapers. A few snacks, and a few other small items like a bottle or pacifier. Messenger-style diaper bags are lightweight and compact. Making them perfect for quick trips or use when you don't want to carry around too much stuff at once.
Finally, there's the laptop bag style. This bag is designed specifically for carrying diapers, baby supplies, laptops, and other work-related items. Laptop bag-style diaper bags usually have several large compartments that can hold everything you need while out. They're also comfortable since they're stretchy enough to fit over.
6 Easy Ways Long Do You Use A Diaper Bag For A Baby On Flights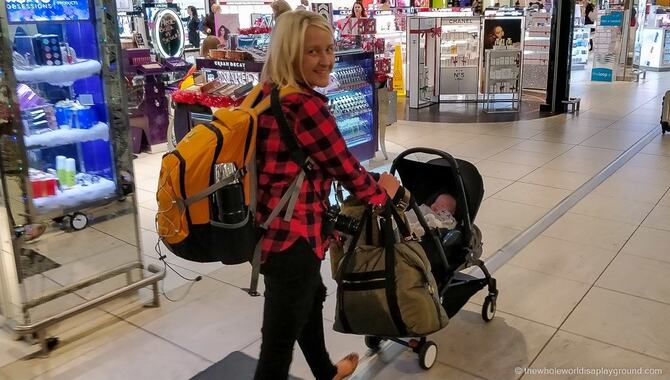 Diaper bags are an important part of any parent's travel arsenal. and they're especially important when you're traveling with a baby. Here are six easy ways to make sure you have everything you need when you're flying with a baby:
Prep your bag the night before: Pack your diaper bag with all essentials, like diapers, wipes, bottles, and snacks. This will do the packing and traveling much easier the next day.
Bring a changing pad and extra clothes: You'll probably want to change your baby's diaper more often than you'd think while on vacation. Bring enough clothes to change him twice during the trip if necessary.
Highchair: If traveling with a child who is old enough to use a highchair, be sure to pack one with your diaper bag. This will make life a lot easier for both of you.
Bring a car seat adaptor: If traveling with an infant or toddler in a car seat. Be sure to bring an adaptor so that you can use your car seat in hotels or other places where there is no designated space for it.
Keep an eye on the weather forecast: The last thing you want is for something bad to happen while you're away because your baby can't survive in cold weather or hot weather without proper clothing or food.
Make a travel checklist: It can be helpful to list the items you'll need before you go so that everything is at your fingertips when you arrive. This will save time and hassle on your trip.
How To Choose The Right Diaper Bag For Your Baby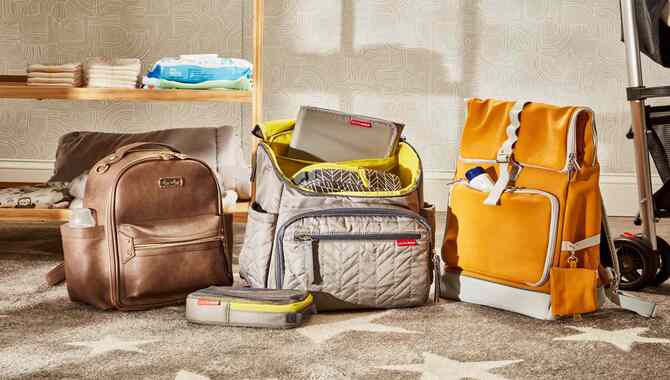 A great way to keep your baby safe and comfortable is to choose the right diaper bag. There are many different diaper bags on the market, so it can take time to decide which one is best for you and your baby.
The most important thing to remember when choosing a diaper bag is that it should be big enough to fit all the diapers, wipes, bottles, and other essentials you will need for your baby. It also needs to be lightweight and comfortable so that you can carry it with you wherever you go. Another important factor to consider is whether or not you want a backpack or shoulder bag style diaper bag.
If you'reyou still need to decide which style is best for you and your baby, try out some online reviews or shopping channels like Amazon or eBay to get some unbiased opinions. Once you've decided on the right style for you, make sure to buy it from a reputable seller who will provide warranty coverage in case anything goes wrong.
How To Pack A Diaper Bag For A Baby On A Flight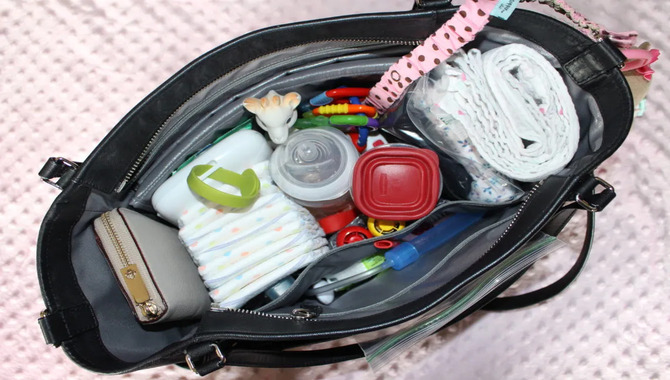 There are a few things you need to take into account when packing a diaper bag for your baby on a flight. The first thing you'll need is a changing table since babies need to be changed while on the plane. You can either bring your changing table or use the one provided in the airplane lavatories.
You'll also need diapers, wipes, baby food, and toys. It's best to bring enough for several days, as your baby may not be able to eat or drink on the plane. Also, pack a bottle for feeding your baby if necessary. It's also important to pack some clothes for your baby in case they get cold on the plane.
You can either bring an extra outfit or pack clothes you know your child will be comfortable wearing. Finally, ensure to include a baggie full of snacks for your little one – something that keeps them entertained and happy during long flights.
Things To Avoid While Packing For A Baby In A Diaper Bag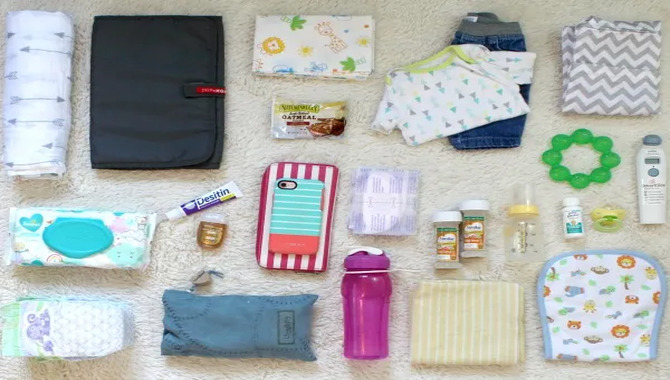 When packing for a baby in a diaper bag, it's important to remember some things you should avoid. These include sharp objects, heavy items, and anything that could cause the baby to choke. Other important things to avoid when packing for a baby in a diaper bag are high-calorie foods and drinks, sugary snacks, and spicy food.
These can upset the baby's stomach or cause them to overheat quickly. Instead, pack healthy snacks like fruit and yogurt that satisfy their hunger without adding extra weight or calories to the bag. Finally, ensure you have enough diapers, wipes, and burp cloths. Diaper bags can get messy fast.
Conclusion
A diaper bag is an essential travel accessory for parents of young children. It allows you to store everything you need while on the go, making it easy to quickly and easily get your child ready for their flight. While a diaper bag is essential for traveling with a baby, there are a few factors to consider when choosing the perfect one for your needs. We have discussed some key factors when selecting a diaper bag for flights. Following these tips, you can find the perfect diaper bag to meet your needs and help you prepare for your next trip.
Frequently Asked Questions
1.What Is The Best Travel Backpack For A Baby?
Ans: One of the best travel backpacks for a baby is the Skip Hop Duo Signature zippered backpack. It's lightweight and has plenty of insulated pockets to keep food and drinks cold. The backpack also includes a changing area and a zippered cooler.
2.Should I Get A Diaper Bag Or Travel Backpack For My Baby?
Ans: A diaper bag is a good option for traveling with your baby. It is generally smaller and lighter than a travel backpack, making it easier to carry around. A diaper bag is generally bigger and heavier than a travel backpack, meaning it can comfortably hold more items. When choosing one, it is important to consider the size, weight, and style of your baby's diaper bag.
3.How Much Should You Spend On A Good-Quality Travel Backpack Or Convertible Diaper Bag For Your Child?
Ans: A good quality travel backpack or convertible diaper bag for a child should cost around $50. The backpack or diaper bag should have multiple compartments and pockets to organize everything. It should be comfortable to wear for a long time, and it is important to choose one that is suitable for the weather conditions you will be traveling.
4.How Much Should I Look At The Size Of My Diaper Bag When Choosing One?
Ans: When choosing a diaper bag, it is important to consider the size of the bag and what essentials it will need to store. A diaper bag should be big enough to store a baby's necessities but not so large that it becomes cumbersome. It is best to choose a diaper bag with several compartments and pockets. Another important factor to consider when choosing a diaper bag is the shoulder straps. Shoulder straps can be hazardous when traveling as they can snag on things and cause injury.
5.Should I Use Plastic Or Paper Bags When Storing Diapers And Wipes In My Travel Diaper Bag?
Ans: Using paper bags when storing diapers and wipes in your travel diaper bag is generally a good idea. This is because plastic bags can leak and create a mess. Also, plastics can leach into diapers and wipes, which could harm babies.