Are you packing snacks for your long-travel flight? Whether packing your food or bringing along something from the plane restaurant, it's essential to ensure that your snacks are healthy and satisfying.
Here are 10 Fun Ideas For Yummy, Healthy Plane Snacks that will keep you energized throughout your flight! From fruit cups to trail mix bars, there's something for everyone in this roundup. Try at least one of these delicious snacks on your next flight.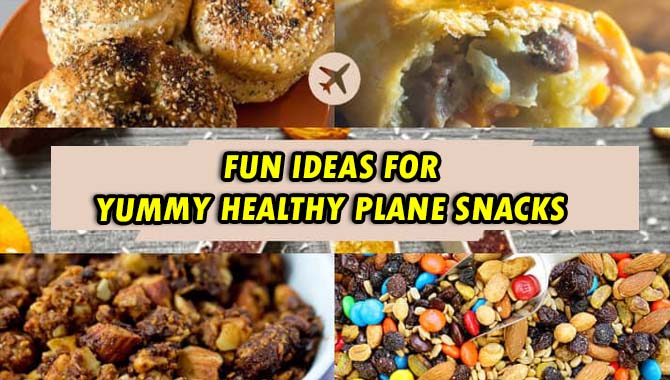 Can You Bring Snacks On A Plane?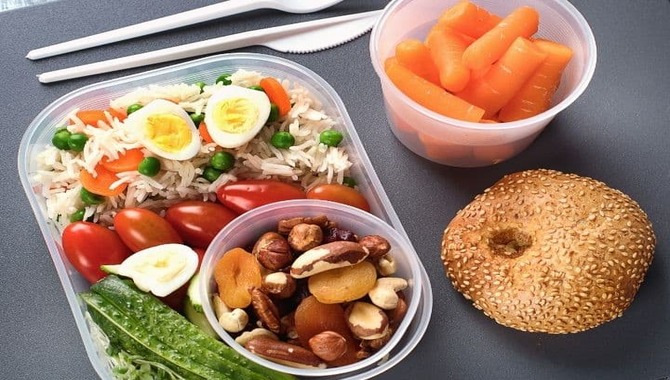 Yes, you can bring snacks on a plane. However, it is important to remember the rules of the TSA and adhere to their guidelines when traveling with food. Here are a few things to keep in mind:
Always pack your food in an airtight container or wrapper. This will help protect it from moisture and pests and ensure it doesn't go bad during transit.
Pack your food according to the airline's restrictions (for example, some carriers prohibit items such as nuts).
Only travel with foods you have tried before – don't risk going hungry if something goes wrong.
Ten Fun And Nutritious Recipes For Healthy Plane Snacks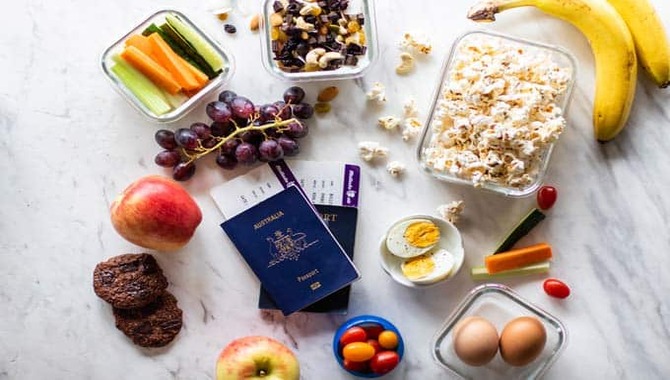 Planning healthy snacks for travel can be a bit of a challenge. But don't worry; we've got you covered! This post has put together ten fun and nutritious recipes for healthy plane snacks. There's something for everyone, from watermelon cubes to trail mix made with oats, raisins, and nuts. Plus, all of these snacks are easy to carry and travel-friendly. So go ahead and ditch the unhealthy snacks and enjoy some delicious and healthy airplane snacks instead.
1. Peanut Butter And Jelly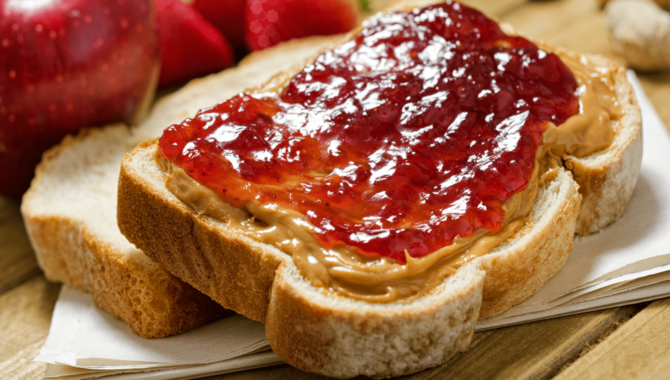 Combining peanut butter and jelly is a great way to pack plenty of nutrients and your two favorite things. You can also add some fresh fruits or vegetables to take advantage of their health-boosting properties. For an extra healthy snack, top it off with nuts or seeds – both provide essential nutrients and are easy to eat on the go.
2. Cottage Cheese With Veggies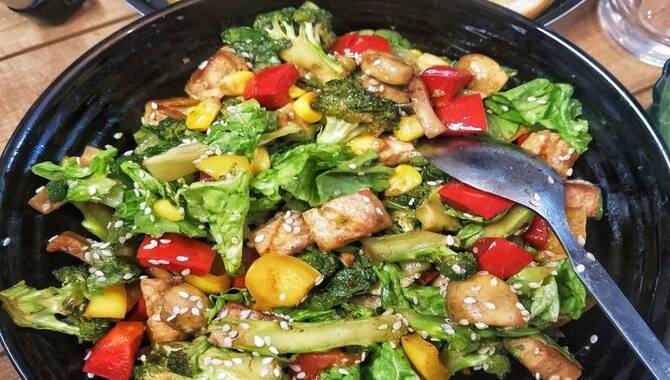 Cottage cheese is a great option for those looking for a healthy and filling snack. Not only does it contain protein, but it also contains veggies, which are packed with antioxidants and other health-promoting nutrients. Plus, cottage cheese is relatively low in calories and fat – perfect for when you don't have time to cook something more elaborate.
3. Oatmeal-Walnut Mix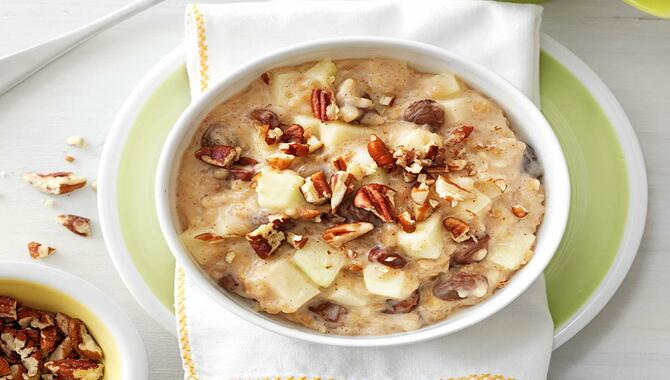 This healthy snack mix is perfect for something satisfying but not too heavy. It's made with oats and nuts, providing plenty of fiber and nutrients – including protein and potassium. Plus, oatmeal is a good source of magnesium which can help improve your moods (and digestion).
4. Whole Grain Toast With Nut Butter Or Seeds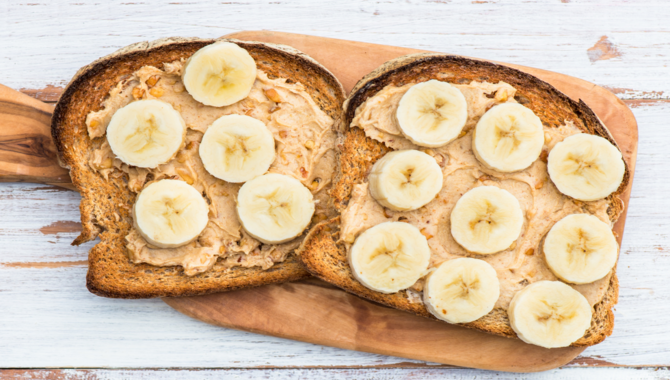 So you're packing your healthy snacks for your long flight? Don't worry; there's no need to sacrifice taste to travel light. Try whole-grain toast with nut butter or seeds – both options are great ways to boost your energy and sustain you on long flights.
And don't forget about storing them in a sealed container in the overhead compartment of the plane; this way, they'll be easy to access when you land.
5. Pretzel Bites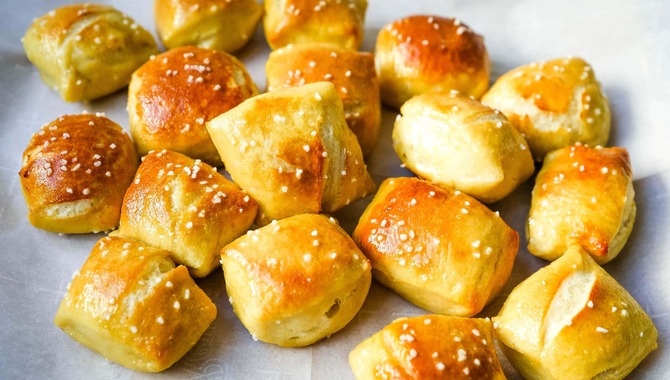 Pretzel bites are a great way to quench your thirst and satisfy your hunger simultaneously. Made with pretzels, cheese, and savory sauces, these snacks can be enjoyed on the go or in place of regular food. They're also low in calories, so that you can indulge guilt-free! Try mixing up the flavors to keep things interesting – rosemary and Parmesan cheese or cilantro and jalapeno sauce will do the trick.
6. Quinoa Berry Crumble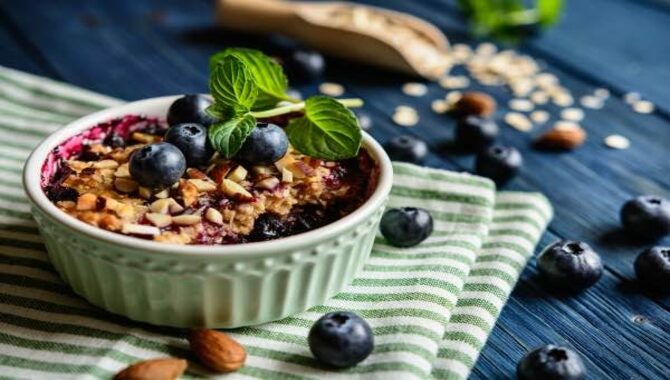 Quinoa Berry Crumble is a great way to get your daily intake of vitamins and minerals while on the go. The quinoa provides bulk and protein, while the berries offer antioxidants and sweetness. Plus, it's gluten-free, so people with food allergies can enjoy it too! Double the batch and store it in an airtight container for later use.
7. Spiced Chickpeas And Sweet Potato Fries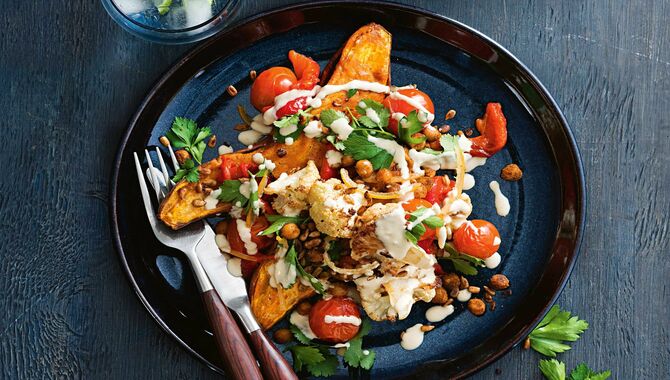 Are you looking for a delicious and healthy snack that will keep you full for a while? Then try out spiced chickpeas. These tasty little beans are packed with flavor and nutrients, making them the ideal snack.
Meanwhile, sweet potato fries are perfect if you're in the mood for something savory and nutritious. High in fiber, vitamins, and minerals, these crunchy snacks will satisfy your appetite nicely.
8. Cheddar Cheese Ball With Carrots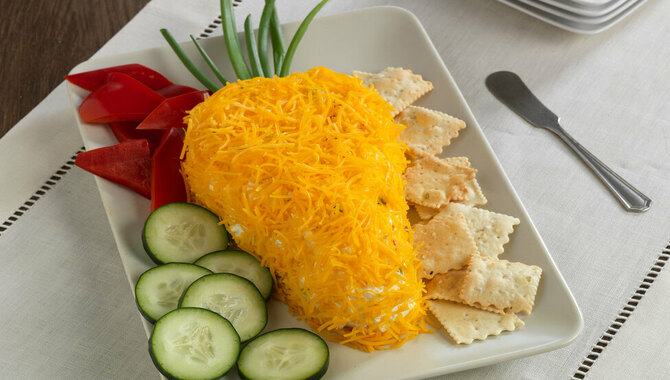 If you're feeling energetic and hungry, try a cheddar cheese ball. These light and airy snacks will give your stomach and mouth something to rejoice in. Made with cottage cheese, cheddar cheese, bread crumbs, garlic powder, salt, and pepper, this easy-to-make snack is perfect for any time of day. Mix everything until well combined before shaping it into a ball.
9. Cashew Nut Hummus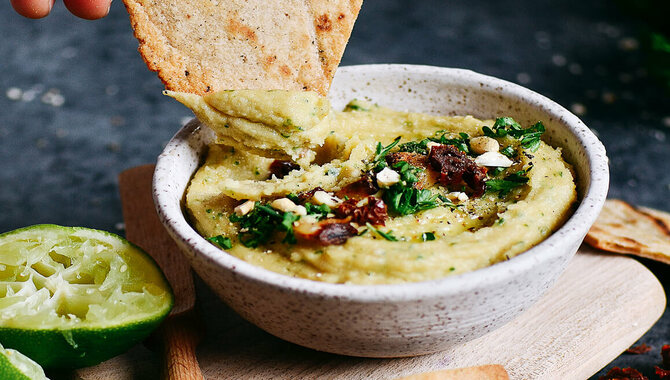 Try out cashew nut hummus if you're in the mood for something creamy and protein-rich. This healthy option is easy to make, packing in loads of nutrients, including healthy fats and antioxidants. Plus, it's vegan, so people with dietary restrictions can enjoy it too! Mix all of the ingredients until smooth before serving.
10. Trail Mix With Dried Fruits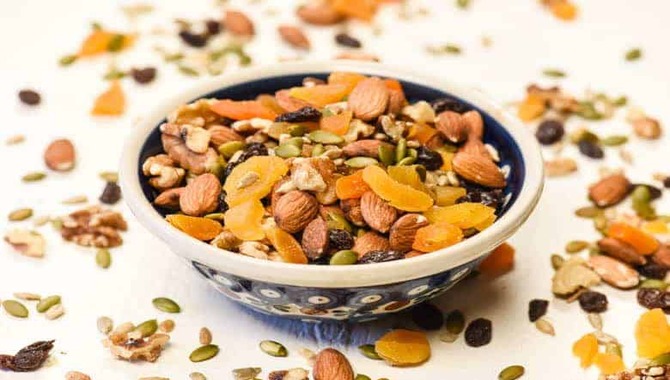 If you're looking for an energizing and healthy snack, try trail mix with dried fruits. This tasty mix includes raisins, apricots, sunflower seeds, and almonds. Not only is it full of healthy nutrients, but it's also sweet and satisfying enough to keep you going all day long. Plus, it'll provide you with some much-needed antioxidants too.
How To Store And Bring Along A Healthy Snack For The Journey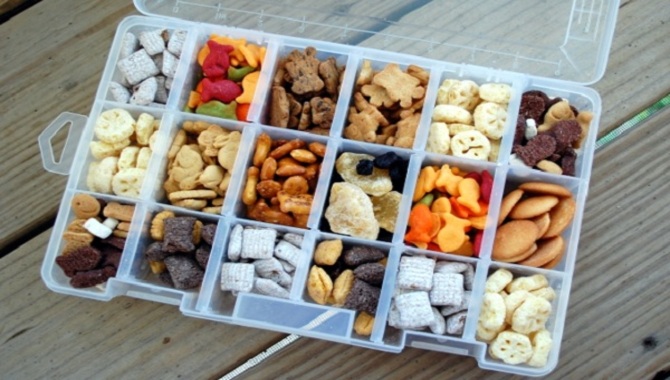 When it comes to traveling, food is always a top priority. But what if you don't have time to eat regular meals? What if you're on the go and don't want to bring along an entire meal?
Fortunately, plenty of healthy snacks can be consumed on the go. Here are a few easy tips for storing and bringing along a healthy snack:
Choose foods that will last long without going bad. Preferably, choose fruits or vegetables over processed foods or sugary beverages.
Store food in airtight containers so it stays fresh and crunchy. Try packing individual servings in small containers like mason jars or see packs of dried fruit already prepped and ready to eat (like trail mix).
Carry snacks with you wherever you go – even outside! Bring some water bottles full of refreshing drinks, energy bars, nuts, or chapsticks/lip balms if things get too hot or dry out during your travels.
Make sure your snacks provide adequate nutrients and calories for both during the day (when hunger strikes) and at night (when energy levels are usually lower). This means choosing healthier options rather than junk food favorites that may not be good for your overall health, physically or mentally, while traveling.
Conclusion
Travelling can be a lot of fun, but it can also be tiring. Pack healthy and yummy snacks to make the trip as enjoyable as possible. This blog has shared 10 Fun Ideas For Yummy, Healthy Plane Snacks. From fruit snacks to trail mix bars, we've got you covered! So, what are you waiting for? Pack your snacks and get ready to blast on your next plane trip.
Frequently Asked Questions
1. What Are Some Of The Best Healthy Airplane Snacks?
Ans: People often opt for fruits and vegetables when it comes to healthy airplane snacks. However, if you're looking for something a little bit different, here are ten fun ideas that will keep you energized on your flight:
Buckwheat Groats with Hazelnut Butter: These are an excellent source of fiber and antioxidants, which will help regulate blood sugar levels.
Veggie-Wrapped Dates: Soft and chewy dates stuffed with fresh veggies make a perfect travel snack.
Roasted Beetroot and Chickpea Salad: This salad is packed with protein and healthy fats, which will keep you satisfied during the long journey.
2. Do Any Particular Nuts Or Seeds Make A Good Choice For Airplane Snacks?
Ans: Apart from the obvious nut options like almonds and walnuts, some good choices for airplane snacks include pumpkin seeds, Brazil nuts, hemp hearts, raisins, and dried apricots. These snacks are high in protein, healthy fats, and fiber, making them great options to keep you full during long flights.
3. Should I Pack My Snacks, Or Can I Buy Them Onboard?
Ans: Pack your snacks if you're looking for something healthy that tastes good. The best airplane snacks include fruits, nuts, seeds, granola bars, trail mix, and more.
4. Should I Eat Salty Or Sweet Snacks On The Plane?
Ans: Most people find that salty snacks are more satisfying than sweet ones. This is because salty snacks help to curb your appetite and help you retain water during long flights. In addition, sweet snacks like candy, chocolate bars, or ice cream might make you feel sick, but they also contain high amounts of sugar, which will cause weight gain over time.
5. How Should I Avoid Getting Sick While Flying (And What Can I Do If I Get Sick)?
Ans: Here are a few suggestions on how to stay healthy while flying:
Make sure you pack a healthy snack and drink for the flight. This will help you to stay energized and avoid feeling famished during the long flight.
Try to avoid flying during peak season, which is typically autumn through spring. Flying during this time can be especially tiring and disruptive for your body.
If you get sick while flying, try to hydrate yourself well with water and electrolyte drinks and eat light foods that are easy to digest.
I'm a travel blogger with a focus on safety. I've been to all seven continents, and I love sharing my tips for staying safe while traveling. I also have a lot of experience with travel hacking and finding the best deals on airfare and hotels. My blog features reviews of restaurants, hotels, and attractions around the world.