When you travel, packing is one of the biggest challenges. You have to carry all your luggage in just one bag. The more bags you carry, the harder the job gets. When planning a trip, it can be tempting to over-pack, but this is not the best idea.
Packing too much can lead to unnecessary stress and fatigue, making for a less-than-ideal trip. Instead, you should focus on packing the right items for the type of travel you have planned. This will help ensure that your luggage is as lightweight and efficient as possible, saving time and effort on the road.
There's an art to packing. If you're packing like a pro, chances are great that your luggage will travel like one too. There are certain tips and tricks that every traveler should follow when packing for a trip.
While many of these tips seem obvious, we list them for you to follow before your next trip. There are packing tips and tricks that will make your luggage-carrying job a lot easier. We'll talk about packing hacks for savvy travelers that every woman should follow before packing for a trip.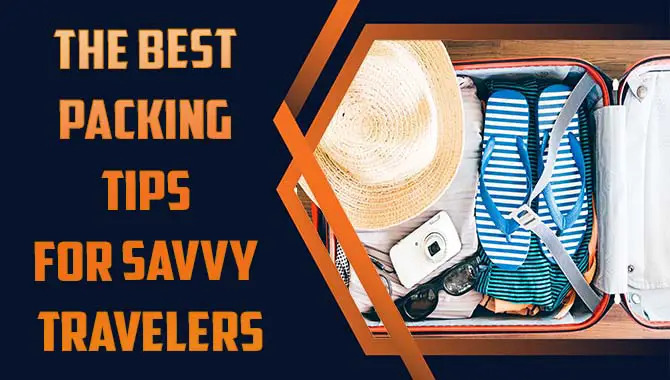 10 Best Packing Tips For Savvy Travelers
It's important to label everything in your luggage so that it's easy to find and identify during the journey. When creating a packing plan, list what you will need for each day of your trip and pack accordingly. This way, you won't forget anything important or waste time searching for forgotten items. Consider bringing a travel organizer with you on your trip to help keep things organized and easy to access. Here are 10 tips below:
1.Roll Up Your Clothes
Packing clothes can be a tricky task for any traveler. It's best to roll them up in a bundle to minimize their space in your luggage. This will help keep everything organized and compressed, making it easier to find what you're looking for when packing.
Also, packing light means you won't over-pack and risk bringing too much clothing or accessories. When packing, it's important to remember to bring a few pairs of socks as they are essential for staying warm during travel. By packing efficiently, you'll leave more room in your suitcase for other essentials.
2.Use Clothes That Take Up Less Space.
Packing light doesn't just mean packing less clothing. Packing clothes that take up less space in your suitcase or backpack is essential. Try to pack clothes in pairs or groups that you can layer for different climates. Another great way to save space is by packing non-perishable food and drinks in containers that can be sealed and taken with you.
Also, it's a good idea to carry some essential travel documents such as your passport, driver's license, and ticket in a secure location. Finally, pack a comfortable pair of shoes, as they will help you stay comfortable during your long-haul journeys.
3.Pick Your Shoes Wisely.
When packing for a trip, it's important to choose shoes that are comfortable and fit well. This will ensure that your shoes stay in good condition throughout your travels. It would be helpful to bring a pair of sandals or clogs if you're traveling for an extended period.
These types of shoes are versatile and can be worn in various environments. If possible, it's also a good idea to pack a pair of sandals or clogs in your carry-on luggage and your checked luggage. This way, you can always have a backup pair of shoes if one gets damaged or worn out during your trip.
4.Pack Socks Inside Shoes
When packing for a trip, it's important to avoid getting your feet wet. One way to avoid this is to pack socks inside your shoes. This way, you won't have to worry about them getting wet when packing for your trip. Additionally, you can use plastic wrap or a plastic bag to protect items from getting wet.
5.Use Travel-Size Packs For Hygiene Products.
Packing travel-sized versions of your favorite hygiene products is a great way to avoid the hassles and costs of packing full-size versions. Plus, you can easily carry these lightweight versions in your luggage. When packing for your trip, ensure that you pack your toiletries in leak-proof containers to avoid confusion at airport security checkpoints. Also, pack snacks and other light items in hard-sided containers to prevent them from being squished or crushed.
6.Book Accommodations With Laundry Options
It's important to think about your packing priorities when planning your trip. It's best to pack only the items you need for a particular trip rather than over-packing. This will save space and ease the burden of packing.
Besides, packing light reduces the risk of losing or damaging your belongings, while packing efficiently ensures you have enough space to pack your clothes and other essentials. Packing light also ensures you can carry as much as possible without excess weight.
When booking accommodation with laundry options, you can save time and hassle by simply dropping your laundry off at the closest laundry facility when you finish with it. Some hotels even offer shuttle services to the nearest laundry facility so that you can easily pick up your laundry without leaving the hotel. Additionally, packing lightly and efficiently is crucial to ensuring that you have enough space to pack your clothes and other essentials for a trip.
7.Wear Any Bulky Items
Packing for a trip can be challenging. To ensure you have everything you need, it's essential to pack any bulky items in your carry-on bag. Items easily packed and unpacked include clothes, jewelry, and electronics. When packing for a trip, wear comfortable shoes and clothing that you can move in easily.
Also, pack items in a way that makes them easy to grab and go. If possible, avoid packing too much clothing or unnecessary items that will take up space in your luggage. Instead, fill your bag with only the items you need for the trip. This strategy will help keep your belongings organized and prevent you from overpacking.
8.Limit Your Suitcase Size
As a savvy traveler, you know how important it is to minimize the size of your luggage when packing for a trip. When packing for a trip, it's essential to keep the size of your suitcase in check to avoid overpaying for checked luggage fees. Your carry-on bag includes clothing, personal items, and essential supplies.
However, it's also helpful to pack lightweight items that can be easily stored and transported. These tips will help ensure that you have everything you need for an enjoyable and fruitful vacation. Besides, keeping your luggage clean and organized is good, so you don't have to search for your belongings while on vacation.
9.Use Packing Cubes
Packing cubes can help you stay organized and avoid packing multiple pieces of clothing in one bag. If you're packing for a trip, packing cubes are a great way to keep your clothes organized and separated by categories, like shoes, underwear, and shirts.
They also come in different sizes and shapes to fit any type of clothing. Packing cubes can help you avoid over-packing and ensure you have room for other necessary items, such as toiletries and accessories. Packaging cubes is a great way to stay organized while packing for a trip.
10.Be Reasonable About What You Bring.
Being realistic about the items you'll need while traveling is important. Pack light and avoid bringing unnecessary baggage. Instead, pack only the items you'll need for your trip and leave the rest home. This will save you time and hassle packing and reduce the risk of forgetting something vital.
Additionally, make a list of the items you'll need before you leave, and pack them in a carrying case or backpack. This way, you can carry all of your essential items in one place and simplify your packing process.
Conclusion
Traveling is an exciting and enriching experience, but it can be difficult to know what to do and where to go when you're not sure where you're going. That's why savvy travelers need to have a plan and stick to it. As a traveler, packing light and smart allows you to travel light efficiently. This way, you won't be tempted to overpack, which is a space-saver and time-saver.
If you follow these packing tips, you'll be well on your way to traveling smarter and lighter. So, there you have it. These packing tips are to help you travel light and still look stylish. When you travel light, you can pack less and travel smarter. Besides, you're already space-savvy and packing-wise. Above's a packing list of the blog author that might also help you.
Frequently Asked Questions:
1.How Do You Pack A Savvy?
Ans: It is helpful to focus on packing lightly and efficiently when packing for a trip. This will help you save space in your luggage and keep your clothes looking wrinkle-free.
2.What Is The Smartest Way To Pack?
Ans: When packing for a trip, it is important to consider what you will and will not need. For instance, if you are traveling in a warm climate, pack items you can wear multiple times, such as clothing, sunglasses, and hats. On the other hand, if you are going on a short travel-style trip, it may not be necessary to pack as much.
3.Do And Don'ts In Packing?
Ans: Pack your essentials and leave the rest at home. Overspending on luggage and luggage space is a common mistake people make when traveling. By packing only what you need, you'll be able to save both money and time. You can also use packing cubes to help organize your belongings and make packing easier overall.
4.What Is A Good Packing Tip?
Ans: Make a packing list before you leave. This will help you track all the items you'll need for your trip and make packing easier overall.
5.Should I Pack My Clothes In Plastic Bags Or Boxes?
Ans: Regarding packing your clothing – it just depends on your personal preferences. Generally, you should pack your clothing in plastic bags or boxes to protect it from damage and moisture.
I'm a travel blogger with a focus on safety. I've been to all seven continents, and I love sharing my tips for staying safe while traveling. I also have a lot of experience with travel hacking and finding the best deals on airfare and hotels. My blog features reviews of restaurants, hotels, and attractions around the world.