How Early Can I Check My Bags in Delta Airlines? [Guidelines From Delta Airlines]
Miss traveling? Often while traveling from one place to another via flight, a question that bothers me is "how early can I check my bags."
The reason can be that you had a stopover in between the flight journey, and since you are staying at the airport hotel, you want to check the bags beforehand to avoid the last-minute hassle. Or for any other cause.
Most often, you do not get the answer to the question on the airlines' website about how early it is possible to check the bags. If you are planning to make your next journey on Delta Airlines, then this is an issue that might not get solved only by searching for the answer on their official website.
Not to worry about it anymore. As we are here to help you with the best possible answer to your question, "how early can I check my bags in Delta Airlines." Just read along and find it out!
How Early Can You Check Your Bags?
Well, generally, in the case of the flights within the United States and most international flights, the airlines do not allow you to check-in the bags before 4 hours prior to the departure.
But most of the airlines have a self-service counter to check in the bags up to 12 hours before the departure.
All you have to do in the self-service counters is that you can print a baggage tag all by yourself and attach it with your bag. The bag will be checked in!
But if you really want to drop off your bags, then most of the time, it is encouraged or allowed to be done only about 4 hours prior to the departure of the flight, not before that.
Delta Online Check-In Service
Delta airlines provide a special facility of Online check-in service, which is open for a passenger 24 hours prior to the departure time. Even the payment for the bags can also be made while online check-in.
All you have to do is to check in your bags online on delta.com or on the Fly Delta app within 24 hours of the departure time and notify Delta of the number of bags that will be checked. And then, you are good to go!
After checking in online, you can drop off your bags at the airport at any time within 24 hours prior to the departure time.
Alternative To Online Check-In Service
Not really interested in the online check-in service? No problem! You also have the traditional option of checking in the bags and paying for them at the airport.
But still, the question remains that if you want to do so, then how early can you check in your bags.
Since Delta does not have any issue with checking the bags within 24 hours prior to the departure of the flight online, they did not mention that they would have a problem in the case of on-airport check-ins as well.
Hence, it is believed in the case of Delta airlines that you can check-in at any time within 24 hours before the departure time of the flight, be it online or on-airport.
However, it is still encouraged to check the bags about at most 4 hours before the departure time, until it is too necessary.
Standard Time To Check-In The Airport
The arrival time at the airport for Delta is about 2 hours before the departure of the flight, generally in the case of flights within the United States.
This is the standard time to check in. But in the case of international flights, the standard time for checking in is 3 hours prior to the departure.
You definitely should check-in before 30 minutes of the scheduled departure time while traveling within the USA.
And at least an hour before, in case of an international flight. Or else, you might a good chance to miss your flight.
It is required for a passenger to remain in front of the gate, ready to board at least 15 minutes before a domestic flight and at least 45 minutes before the scheduled departure of an international flight.
Will Early Checking Bags Cost You Additional Money In Delta?
Delta charges additional money in case of excess or overweight bags. However, they DO NOT charge any additional money for checking bags early.
If they do not want you to check the bags before 4 hours of the scheduled departure time, they will not allow you to do that. But they will not charge you extra if they let you check the bags early. So just relax!
First Checked Bag Charged Free In Delta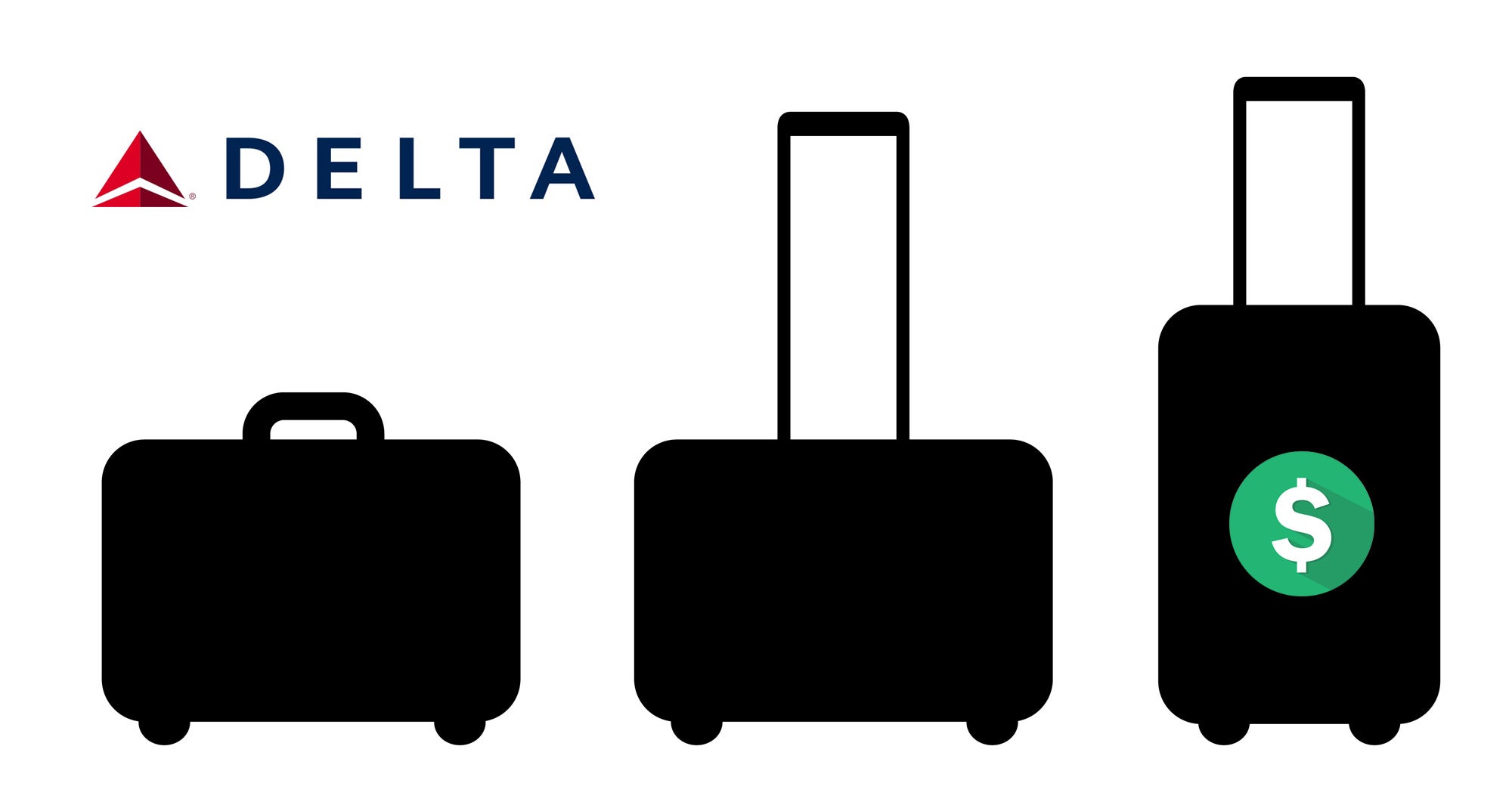 This benefit is provided to Delta Card Members. If you have a card, then all you have to do is to book using the card. And you can save up to 60$ per person on a round Delta flight trip.
For that, you will have to include your SkyMiles number in your reservation by providing it while booking for the flight. The first bag for each person will then automatically be absolutely free of cost at check-in.
But to remember that this very advantage is only applicable. When the bags are not overweight or oversized as per Delta's rules and regulations of eligible baggage.
Tracking Checked Bags in Delta Airlines
Delta Airlines further provides an option to track the status of the checked baggage.
Once you check your bags, there is always a worry about if your bags are not getting missed or lost by any managing error. That is why to ease your stresses, there is this option to track your bags online.
To track the current status of your checked bags you have to go to Delta Airlines' official website.
And then enter the baggage info panel that is within the option "Book". And then click on the "Track Checked Baggage" option.
There you will find some blanks to provide the bag information. Provide all the necessary information properly and carefully. Then, simply click on Check Bag Status. That's it!
You will get to know the present status of your baggage right ahead.
Final Words
We truly hope that you do not have any other questions on your mind regarding how early can you check your bags in Delta Airlines.
It is very important to check your bags properly and carefully. As any negligence might cause you to lose any of your bags. Therefore, please do check your bags cautiously. The safer and smoother way to check bags for Delta Airlines is preferred to be via the Online Check-in service.
So, if it is possible for you, try to take that option into count for checking your bags. Especially if you plan to check them earlier. Remember being early and checking in early is never a bad idea unless you fear getting bored in the airport.
But being late to check-in can definitely cost you to miss a fight. So, if you are planning to check in early, you are on the right track honey! We hope we could help you with all the necessary information on checking baggage. That you needed for your next flight to Delta. I hope now you know how early can I check my bags in Delta Airlines.