Do you love the idea of traveling but can't bear the thought of packing your bags and leaving your loved ones behind? Well, Couchsurfing may be the perfect solution for you! Couchsurfing is a hospitality service that allows people to stay with locals in their homes instead of staying in a hotel.
Not only is Couchsurfing affordable. But it also gives you the chance to experience the local community and culture first-hand. If you're interested in learning more about this fantastic phenomenon, read our top tips on becoming a Great Couchsurfer.

 How To Be A Great Couchsurfer – Step By Step Guide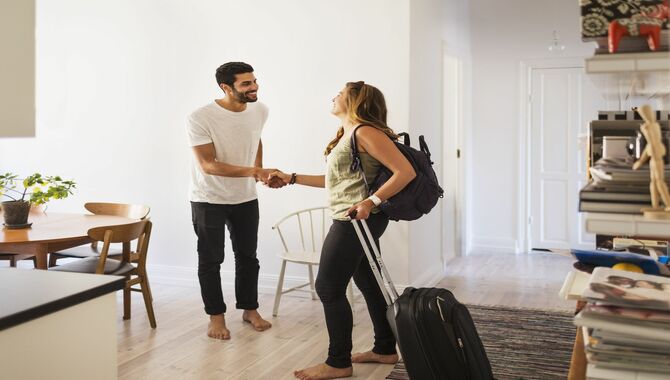 First and foremost, you'll need to find a Couchsurfing host who is welcoming and accommodating. Make sure to read the member profile of your prospective host before accepting their offer As this will tell you a lot about their personality and expectations.
When traveling with Couchsurfing, it's important to respect the culture of your host country by not doing anything that might consider inappropriate or disrespectful.
For example, don't smoke in public spaces or make too much noise late at night – these are obvious no-nos, but there are also plenty of other things that might consider "cultural norms" that you might not be aware of.
Just like with any travel experience, it's always best to ask your hosts beforehand if there are any particular rules or regulations you need to consider.
Once you've found a welcoming and accommodating host, the next step is to get organized. Make sure to bring enough clothes for the week (including some comfortable shoes!), as Couchsurfing doesn't usually involve staying in fancy hotels or eating out all the time.
And finally, make sure to bring something fun and rewarding along with you – whether that's a game or book to pass the time or some delicious local snacks for when you meet your hosts in person.
 How To Let People Know You're Available
Now that you're all set up and ready to go. The first thing you'll need to do is sign up for Couchsurfing. Once you've registered, send a message to prospective hosts letting them know that you're interested in hosting them and let them know what type of accommodation(s) or activities you might be able to offer!
And finally, don't forget to ask if they would be willing to give their opinion on some local attractions or restaurants before departure – this will help put everyone at ease before attempting any new interactions in a new city. Ready to start Couchsurfing? Head over to our registration page and get started!
Setting Up A Profile And Presenting Yourself Accurately

When you're first getting started on Couchsurfing. One of the most important things you can do is to create a profile that accurately represents who you are. This will help your hosts get to know you better and ensure that both parties have everything they need for an enjoyable stay!
Here are a few tips to help make your profile stand out:
Share some details about yourself –your interests, hobbies, etc.– so potential hosts have something specific to connect.
Make sure all your information is completely up-to-date, including spelling and grammar errors.
Include a picture of yourself (even if it's just a headshot) – not only will this help host get to know you better, but it can also motivate them to suggest activities or accommodations that may be specific to your interests. Ready to start creating your profile? Sign up for Couchsurfing and get started!
 Describing Your Interests And Hobbies

Another critical aspect of creating a successful profile on Couchsurfing is describing your interests and hobbies in sufficient detail. This will help potential hosts get to know you better and may even spark some interesting conversation – after all, everyone has something they're passionate about!
Here are a few tips for crafting an engaging description:
Start by listing the specific interests or hobbies that interest you. If there's something specific you have in mind (like surfing or hiking), be sure to mention it.
Next, provide examples of activities or situations where those interests come into play. For example, describe a hike you took or a camping trip you participated in if you're into hiking and camping.
Finally, include relevant information about your skills or experience (if applicable). This could include details about your outdoor adventure – for example, if you've spent time backpacking or mountaineering – and specific knowledge about the topic.
Offering To Help With Chores Or Activities Around The House
One of the benefits of Couchsurfing is that it allows you to meet people from all over the world. As such, hosting can be a great way to gain experience in various cultures. And help your fellow couchsurfers – whether it's cooking dinner or picking up groceries.
Here are some tips for suggesting tasks:
Be clear about what you're offering and make sure that what you're suggesting is feasible for your host (i.e., don't offer something that would be too much work).
If possible, coordinate offers with other hosts so everyone feels adequately cared for.
Also, be sure to let your host know. If you have any special skills or knowledge that could help with the task. After all, they may not have considered this possibility before – and it would mean a lot to them!
Being Friendly, Welcoming, And Hospitable

One of the most important things you can do as a Couchsurfer is to make yourself available when your host needs you – whether for a chat or just an ear to lend. It can be easy to become lost in your world and forget about the people around you. But being friendly and welcoming will restore trust and create lasting connections.
In short, here are some tips for making a great first impression:
Pay attention to what your host is doing (both inside and outside of Couchsurfing) so that you know where they're at in their day.
Be genuine and honest – if something bothers you, say so! But also be sure to respect your host's privacy. Express appreciation for all the hospitality your host has shown you thus far. It can go a long way in reinforcing positive relationships.
Make sure you have all the necessary supplies before you arrive.
When you arrive at your host's place, make sure to bring everything you'll need – food, drinks, and anything else that might need. This includes cleaning supplies if necessary (after all, it's polite to leave your hostINGS cleaner than when you found them!). And don't forget to say hello and introduce yourself.
Participating In Community Events

One of the great things about Couchsurfing is the opportunity to connect with people worldwide. For this connection to happen positively, both hosts and guests must participate in community events!
These can range from sharing cultural moments to organizing social gatherings. By participating in these events, you'll not only make new friends but also learn about the cultures and customs of your hosts.
Sharing Any Photos Or Videos Of Your Home Or Living Space If You Have .Them If you have any photos or videos of your home or living space, consider sharing them with your host. Not only will this show off how well-equipped and organized you are. But it can also help to establish a sense of trust.
After all, if you're comfortable enough to share such personal information, chances are they'll be okay with giving you access to their place too! As you can see, there are many things to consider when it comes to hosting a Couchsurfer.
But by following these guidelines. You'll be sure to make the experience as positive and rewarding as possible for both yourself and your host! Do you have any advice for hosting a Couchsurfer? Share in the comments below.
Making Accommodations For Dietary Restrictions Or Other Needs That May Be Important To The Other Person. If you know in advance that a Couchsurfer may have dietary restrictions or other needs, it's polite to make accommodations.
This could mean setting out some food options beforehand, providing disposable dishes and utensils, or even preparing a special meal for the guest. By doing this, you're showing your consideration and making it easier for the other person to enjoy their stay! Be respectful and honest.
Above all, be respectful and honest when interacting with a Couchsurfer. This means being discreet about your relationship (unless you're both comfortable sharing that information), keeping any discussions focused on the guest's stay, and never taking advantage of your host's generosity.
Remember: A Couchsurfer is looking for a relaxing time away from their everyday life, not someone to take advantage of your hospitality!
Obeying Local Safety Regulations When Travelling Abroad, Including

Familiarizing yourself with the local safety regulations when traveling abroad can be a good idea. This includes knowing what kinds of visits allow. Where you're allowed to go, and what kind of clothes you need to wear.
It's also important to know what type of travel insurance is valid in your destination country – not all Couchsurfing hosts insure! If you're traveling as a group, it's also important to agree on rules and etiquette before departure.
This could include things like how long each person will be staying, when/whether conversations should take place in the host language or not, and whether any shared spaces (like bedrooms) should use exclusively by members of the group.
Conclusion
A great couchsurfer is a gracious host and an honest partner. He will be kind yet firm when the situation calls for it. Pleasant to chat with but quick to get things done. The best way to become a great couchsurfer is by being yourself, just as you do in your everyday life.
It may take some time, but once people know about your newfound friendliness, they'll flock to you like bees to honey! Good luck and have fun.
FAQ
1. What Are Some Things To Consider Before Hosting A Couchsurfing Visit?
Before hosting a Couchsurfing, visit some things to consider that could include understanding your local safety regulations, discussing the expected length of stay with your guests, and ensuring that all group members are aware of any rules or etiquette that need to follow.
2. How Do I Become A Good Couchsurfing Host?
The best way to become a good Couchsurfing host is by being yourself, just as you do in your everyday life. It may take some time, but once people know about your newfound friendliness, they'll flock to you like bees to honey! Good luck and have fun!
3. What Should I Do If I Am Uncomfortable With Couchsurfer's Behavior?
If you are uncomfortable with your Couchsurfer's behavior, it is important to communicate this explicitly to them. Additionally, you may want to consider ending the visit or exchanging hosts with someone else. 3. What should I do if my Couchsurfer won't leave?
If your Couchsurver does not leave, you may need to ask them to leave or take appropriate action, such as calling the police.
4. How Do I Make The Most Of My Couchsurfing Experience?
You can do a few things to make the most of your Couchsurfing experience. First, be sure to enjoy yourself and have fun! Secondly, please take advantage of the skills and experiences that your Couchsurfer may bring with them. Lastly, be respectful of your Couchsurfer's space and theirs in general – always follow local safety regulations when visiting someone else's home.
5. Should I Bring Anything Special With Me When I Visit?
There is no one-size-fits-all answer to this question, as the best thing to do depends on the individual situation. However, some general things that may be helpful include a snack, drinks, and any necessary toiletry items.
6. Is It Polite To Drink Alcohol While Visiting A Couchsurfer's Place?
There is no definitive answer to this question, as it is culture-dependent. However, generally speaking, it may be polite to drink alcohol in moderation while visiting a Couchsurfer's place.
I'm a travel blogger with a focus on safety. I've been to all seven continents, and I love sharing my tips for staying safe while traveling. I also have a lot of experience with travel hacking and finding the best deals on airfare and hotels. My blog features reviews of restaurants, hotels, and attractions around the world.