Have you ever wondered what kind of luggage flight attendants use on the go? After all, these professionals are constantly on the move, travelling to various destinations worldwide. Unsurprisingly, they need reliable, durable luggage that can withstand frequent use and travel.
So, what luggage do flight attendants use? The most important factor for flight attendants when choosing luggage is durability. They need suitcases and bags that can survive the rigours of airline travel. Including being thrown around in cargo holds and pushed through crowded airports.
They also need practical and easy-to-carry luggage with convenient pockets and compartments that allow them to access their belongings quickly and efficiently. Lastly, many flight attendants opt for luggage that has a sleek and professional look, which reflects their role as representatives of their airline.
Flight Attendant Luggage Requirements
As a flight attendant, it is important to know the luggage requirements set by your airline to ensure a smooth and efficient travel experience. Most airlines have specific guidelines on the size, weight, and number of bags you can bring onboard. In general, flight attendants can bring one carry-on bag and one personal item, such as a purse or backpack.
The carry-on bag should fit in the overhead bin and typically cannot exceed 22 x 14 x 9 inches in size or 45 linear inches (length + width + height). The personal item should fit under the seat in front of you and is usually limited to 18 x 14 x 8 inches or 36 linear inches. Some airlines may also have weight restrictions, typically around 25-35 pounds for the carry-on bag.
It is important to remember that these requirements may vary by airline, so always check with your specific company to ensure that you are in compliance. Additionally, some airlines may have additional requirements for flight attendants. Such as carrying a specific uniform bag or equipment for onboard service.
Cabin Crew Luggage Size And Weight Limits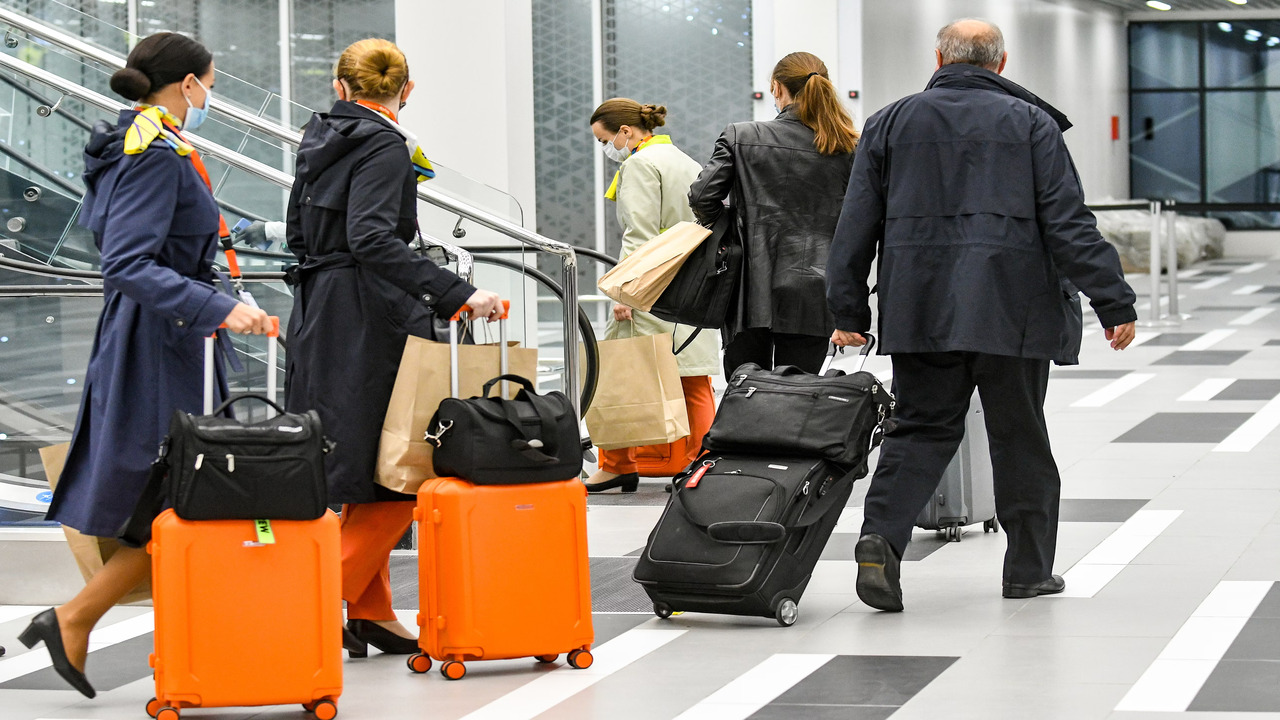 Cabin crew members play an important role in ensuring the safety and comfort of airline passengers. As part of their job, they must bring various items on board, from personal items to work-related equipment. However, specific rules and regulations regarding cabin crew luggage size and weight limits must be followed.
The size and weight limits for cabin crew luggage can vary depending on the airline and the specific position of the crew member. Cabin crew members can bring one carry-on bag and personal items. The carry-on bag should be small enough to fit in the overhead compartment or under the seat in front of them. The personal item can be a small backpack, purse, or laptop bag.
The weight limit for cabin crew luggage can also vary depending on the airline. Some airlines have a maximum weight limit of 7kg, while others allow up to 12kg. It is important for cabin crew members to check with their airline to determine the specific weight limit for their luggage.
What Luggage Do Flight Attendants Use – Best 8 Luggage
Flight attendants generally use lightweight, durable, and functional luggage that can withstand the rigours of frequent travel. Popular brands used by flight attendants include Samsonite, Travelpro, and Rimowa. The right luggage is important to ensure that flight attendants can easily and efficiently transport their personal belongings and work materials from one destination to another.
Flight attendants often have to navigate busy airports, rush to catch connecting flights, and carry heavy bags, so having sturdy and lightweight luggage can make their job easier and more comfortable. Here are explained what luggage do flight attendants use.
1.Travelpro
Flight attendants frequently rely on Travelpro luggage for their travel needs. Travelpro is known for its durable and practical designs, making it a top choice for professionals who constantly move from one destination to another. The brand offers a wide range of lightweight and spacious options that can withstand the rigours of frequent travel.
With features like expandable compartments, smooth-rolling wheels, and multiple pockets for organization. Travelpro luggage ensures flight attendants can efficiently carry all they need while maintaining ease of movement throughout their journeys.
2.Rimowa
Rimowa is a favoured luggage brand among flight attendants due to its premium quality and innovative designs. The brand is renowned for its sleek and sturdy suitcases, crafted from durable materials like aluminium and polycarbonate.
Flight attendants appreciate Rimowa's attention to detail and functionality, allowing them to travel confidently. Rimowa's sophisticated suitcases, equipped with smooth-spinning wheels and secure locking systems, provide both style and practicality. For professionals prioritising luxury and durability, Rimowa is often the go-to choice for travel needs.
3.Samsonite
Flight attendants frequently choose Samsonite as their preferred luggage brand thanks to its long-standing reputation for reliability and durability. Samsonite offers extensive luggage options, catering to various travel preferences and styles.
From hard-shell suitcases that protect valuables to soft-sided luggage with ample compartments, Samsonite's range ensures flight attendants find the perfect fit for their needs. With features like spinner wheels, telescopic handles, and TSA-approved locks, Samsonite makes travelling hassle-free for busy professionals, allowing them to focus on their duties in the air.
4.Tumi
Tumi is a well-regarded luggage brand that remains popular among flight attendants for its high-end designs and exceptional durability. Tumi's commitment to using premium materials and innovative engineering ensures their luggage can withstand the demands of constant travel.
Flight attendants appreciate Tumi's attention to detail, with features like compression straps, multiple compartments, and built-in USB ports for charging devices on the go. With Tumi's sophisticated and professional aesthetics, flight attendants can travel in style while having confidence in the functionality and reliability of their luggage.
5.Briggs & Riley
Flight attendants often opt for Briggs & Riley luggage due to its reputation for superior quality and unique lifetime warranty. This warranty covers damage caused by airline mishandling, providing added peace of mind for frequent travellers. Briggs & Riley designs luggage with meticulous attention to detail, ensuring maximum organization and ease of use during travel.
The brand's innovative expansion and compression systems also allow flight attendants to optimize packing space efficiently. With a combination of practicality and durability, Briggs & Riley remains a preferred choice for those in the aviation industry.
6.Delsey
Delsey is a favoured luggage brand among flight attendants, offering a balance between affordability and functionality. The brand's wide range of luggage options caters to various needs and preferences. Delsey's suitcases feature durable materials, easy-to-manoeuvre wheels, and well-designed compartments, ensuring flight attendants can efficiently organize their belongings for each trip.
Delsey's luggage also often incorporates TSA-approved locks and expandable features, making it a reliable and practical choice for frequently travelling professionals.
7.Victorinox
Victorinox is a trusted brand that flight attendants frequently choose for their luggage needs. Crafts suitcases with a focus on versatility, durability, and style. Flight attendants appreciate the brand's innovative design elements, such as expandable compartments, swivel wheels, and detachable daypacks, enhancing travel convenience.
Also often incorporates compression straps and organization panels to keep belongings neat and secure. It remains a go-to choice for professionals seeking reliable and adaptable luggage in the aviation industry.
8.Hartmann
Hartmann is a preferred luggage brand among flight attendants who value classic elegance and modern functionality. The brand's suitcases boast timeless designs crafted from premium materials like leather and durable fabrics.
Hartmann's attention to detail ensures each piece of luggage provides ample storage space, smooth-rolling wheels, and secure locks. Flight attendants appreciate Hartmann's ability to combine style with practicality, allowing them to exude professionalism while efficiently carrying their essentials during travels.
Popular Flight Bags For Flight Attendants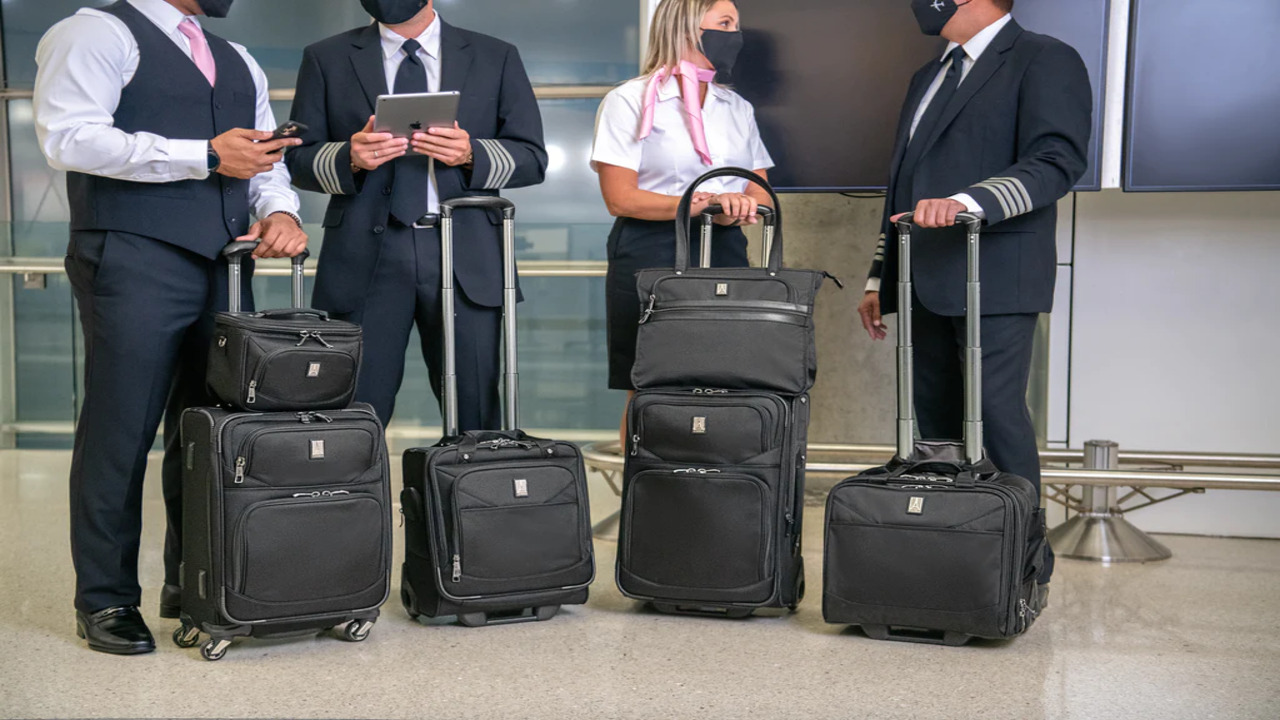 In addition to larger suitcases, flight attendants often rely on specialized flight bags to keep their work-related items organized during flights. These popular flight bags come in various styles and sizes, catering to the unique needs of professionals in the aviation industry.
Rolling Tote Bags: Flight attendants often use rolling tote bags, which typically feature a telescopic handle and wheels for easy manoeuvrability. These bags are designed to fit under seats or in overhead compartments, making them ideal for storing in-flight essentials and documents.
Crew-Specific Backpacks: Backpacks designed for flight attendants offer multiple compartments and pockets to keep work items, such as a tablet, notepads, pens, and documents, well-organized during flights. These backpacks are often ergonomically designed for comfort during extended wear.
Conclusion
Flight attendants use various luggage types that are practical and functional for their needs. While there is no one-size-fits-all solution, most flight attendants opt for lightweight and durable bags that can withstand the rigours of airline travel.
These bags often have multiple compartments to keep their belongings organized and sturdy handles and wheels for easy manoeuvrability. In addition, flight attendants may also use backpacks or tote bags for carrying personal items or work-related materials such as manuals or tablets.
Ultimately, what luggage do flight attendants use depends on personal preference and the specific requirements of their airline. Whether a hard-shell suitcase or a soft-sided duffel bag, flight attendants prioritize functionality and practicality when selecting their travel gear.
FAQ's
1.Do Flight Attendants Use Carry-On Or Checked Luggage?
Ans: Flight attendants typically use carry-on luggage for their work essentials during flights. They may also have separate checked luggage for personal belongings, depending on the length of their layovers and travel schedule.
2.Can Flight Attendants Use Any Type Of Luggage?
Ans: Flight attendants can choose their luggage based on their preferences and job requirements if it meets the airline's regulations and size restrictions for carry-on bags.
3.Are There Specific Brands Of Luggage Preferred By Flight Attendants?
Ans: Flight attendants may prefer luggage brands based on durability, functionality, and design. Popular brands among flight attendants include Travelpro, Rimowa, Samsonite, and Tumi, known for their quality and suitability for frequent travel.
4.What Features Do Flight Attendants Look For In Their Luggage?
Ans: Flight attendants prioritize lightweight luggage with sturdy wheels, multiple compartments for organization, and easy accessibility. They also consider durability to withstand the demands of frequent travel.
5.Can Flight Attendants Use Backpacks As Their Work Bag?
Ans: Many flight attendants use backpacks as an alternative to rolling cabin crew bags. Backpacks with compartments and ergonomic designs provide convenience while distributing weight evenly during long flights.
I'm a travel blogger with a focus on safety. I've been to all seven continents, and I love sharing my tips for staying safe while traveling. I also have a lot of experience with travel hacking and finding the best deals on airfare and hotels. My blog features reviews of restaurants, hotels, and attractions around the world.