What Happens If You Miss Your Flight American Airlines? [Best Suggestions]
We all have this fear that we will miss our important flight. So, there are an of people who reach the airport 3 or 4 hours ahead of departure. So, what happens if you miss your flight American Airlines? We fear many things, like will they let you fly on another plane or get a refund.
Every airline has its policy for missing a flight. Now depending on the airlines, you may get some fantastic or worst offer for missing a plane. However, as you are here looking for what happens if you miss your flight from American Airlines, we will talk about that.
What Happens On Missing American Airlines Flights
No matter how you miss your flight with American Airlines, they will fly without you. You can't ask why they did not call you because that's not their duty. And if your flight is a connecting one, all of the lags are also canceled. However, they have specific policies that can help you to get a Flight without cost. Or get a refund on refundable tickets.
But you will have to go through and get elected by the airlines to get these benefits.
Missing Flight Policies In American Airline
American Airlines is a  passenger-friendly airline that keeps some excellent facilities for its clients. Now you have to know their policies to get the benefits of missing your flight. Get a refund or a new schedule to take off.
If you miss your flight as your fault or for any reason beyond your control, call the airline at least two hours before departure. If there are any available flights airline will manage a seat for you.

If the next flight also goes follows your route and the plane is also from the same airline, you don't have to pay any extra fees.

You missed your flight by any chance, and that may be the last of the day, then you will be offered to fly with the first flight of the next day.
If you think you will miss your flight due to late arrival, there is some scope to get free flights. As long as the flight you missed is not the last of the day and you arrived within two hours of departure, these policies are applicable.
When a passenger gets into the airport at the last moment of taking off but is stuck in check-in.

When the passenger is missing any critical document for travelling.

When a passenger hasn't applied or received any confirmation from Electronic System for Travel Authorization before flying to the United States. 

When the passenger has a boarding ticket or mobile pass, but he/she arrived at the wrong airport.
Will You Get Charged For Missing A Flight On American Airlines
There is no policy this airline that says you will be charged for missing a flight. But if you are trying to skip your flight by "hidden city ticketing," you don't want to be caught. Because the Airlines as your consent to take you from one place to your destination.
And you have to abide by the airline policies and try not to mess with their business. However, you won't be charged for missing a flight accidentally or even on purpose.
Can Y0u Get A Refund For Cancelling The Ticket From American Airlines?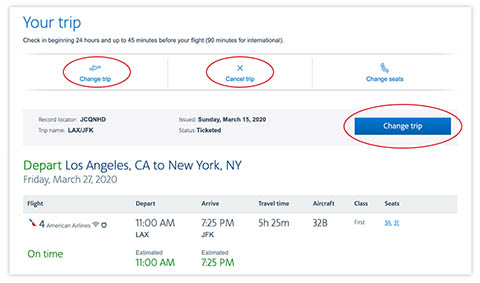 If you booked a non-refundable ticket that is possible to refund either you want to cancel or miss your flight. But there is no way you will get a full refund. American Airlines will refund your ticket only if you cancel your ticket 2 hours before your flight. 
But you won't get any cash or e-credit from them. You will get a flying voucher worth the money of your ticket after deducting the cancellation fee. The cancellation fee is 200$ for American Airlines. So if your ticket is worth 300$, then you will get a 100$ voucher.
But that voucher is valid for 12 months for the same type of flight. 
How To Get A Full Refund On Cancelling A Ticket From American Airlines
American Airlines let will refund all of your money in some conditions. They allow their passenger to change their mind anytime. But to get a refund, you have to be in two criteria. Either you have to buy the ticket at least two days before your actual departure date or have any Airline management policies. 
If you got earlier than your desired day to take off, you can cancel your ticket and get a full refund. You will have to cancel your ticket within 24 hours of flight take-off. But this is eligible for a single passenger. You can't get this benefit in group tickets.
If your flight delays more than three hours of your departure time, you can get a full refund for that. If you want to change your flight instead can cancelling, you get that option as well. 
You can get a full refund if the Airline schedule gets messed up and automatically cancels your ticket. Sometimes a flight may not depart from the airport due to a lack of passengers. In those cases, you will get an automatic full refund.
You can get a refund on some exceptional cases as well. If you get a call for military operation or your flight partner dies before departure, you can get a full refund of the flight without any question.
Conclusion
You may miss your flight due to many reasons. But this is not an excellent experience to miss your flight on purpose or in any uncontrollable situation. It can cost a lot of money if you miss your non-refundable flights with any airline. There is no guarantee that the airline will refund your ticket.
However, you know now what happens if you miss your flight American Airlines. We hope the information will help you to get control of the situation. However, we will suggest not miss your flight without any emergency reason because that's not a pleasant experience.